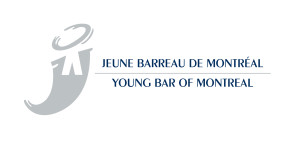 Founded in 1898, the Young Bar of Montreal (YBM) represents more than 4200 lawyers with 10 years or less of practice, registered in the Montreal area.
These young lawyers work in all existing fields of law where they leave their mark on the professional scene. They are the profession's succession, both on a national and international scale. Influent as a group, engaged in their community, they are called upon to be society's leaders within the best law firms, private enterprises, institutions and public organizations.
The YBM is run by a board of directors made up of 15 volunteer lawyers who ensure that its goals are met. Its mission is twofold. First, the YBM seeks to defend and to promote its members' interests. Second, it offers services of consultation and legal information on a volunteer basis to different segments of the population, and organizes charitable activities. Overall, it seeks to improve access to justice and to contribute to the collective well-being.