Every year, the Desjardins Foundation hands out awards to individuals working with non-profit organizations, in recognition of their commitment to volunteer work.
These awards consist of an honorary certificate given to the winner, along with a donation of $ 1,000 to a charity registered with the Canada Revenue Agency (CRA), either the organization for which the winner has been volunteering, or an alternate charity of his or her choice.
In acknowledgement of Mtre. Mathieu Jacques's participation in the Young Bar of Montréal's Preparation Service for a Hearing, he was presented with one of the Desjardins Foundation's honorary certificates for his dedication to volunteer work, and chose to donate the $ 1,000 bursary to the YBM's partner organization, Pour 3 Points.


The YBM expresses thanks to Mtre. Jacques for his continued involvement, and congratulates him for earning this recognition.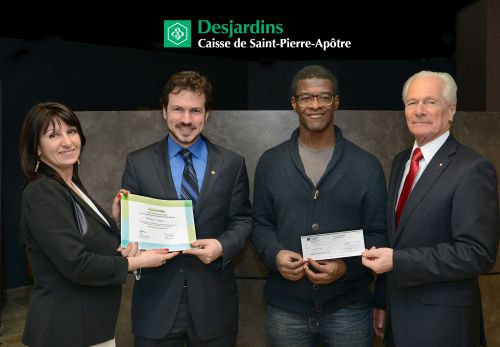 From left to right: 
Marie-Chantal Loiselle
– Management of the Caisse Saint-Pierre-Apôtre, Mtre
.
Mathieu Jacques
, M
tre.
Fabrice Vil
– Co-founder & Excecutive Director of Pour 3 Points et
Gilles Sicotte
– President of the Caisse Saint-Pierre-Apôtre.