1 December 2016
10th anniversary of the Gala JBM « Les leaders de demain »
It is with pride that the Young Bar of Montréal (YBM) announces its 7 winners for the title of "Les leaders de demain" on the occasion of the 10th anniversary of the Gala du JBM "Les leaders de demain", which was held on november 30. Hosted by Mtre. Paul St-Pierre Plamandon, winner in the Pro Bono/Involvement in the Community category in 2010, the YBM Gala celebrated its 10th anniversary. The evening's festivities took place with white and silver décor at the majestic St-James Theatre, with more than 300 guests in attendance.
Congratulations to the Winners!
The following 7 young Montréal lawyers have distinguished themselves in their respective fields of law pertainning to the excellence of their casses, their social involvement, their personal and professional achievements, as well as their vision and insight. For the second consecutive year, winners were awarded the Distinctio  Trophy.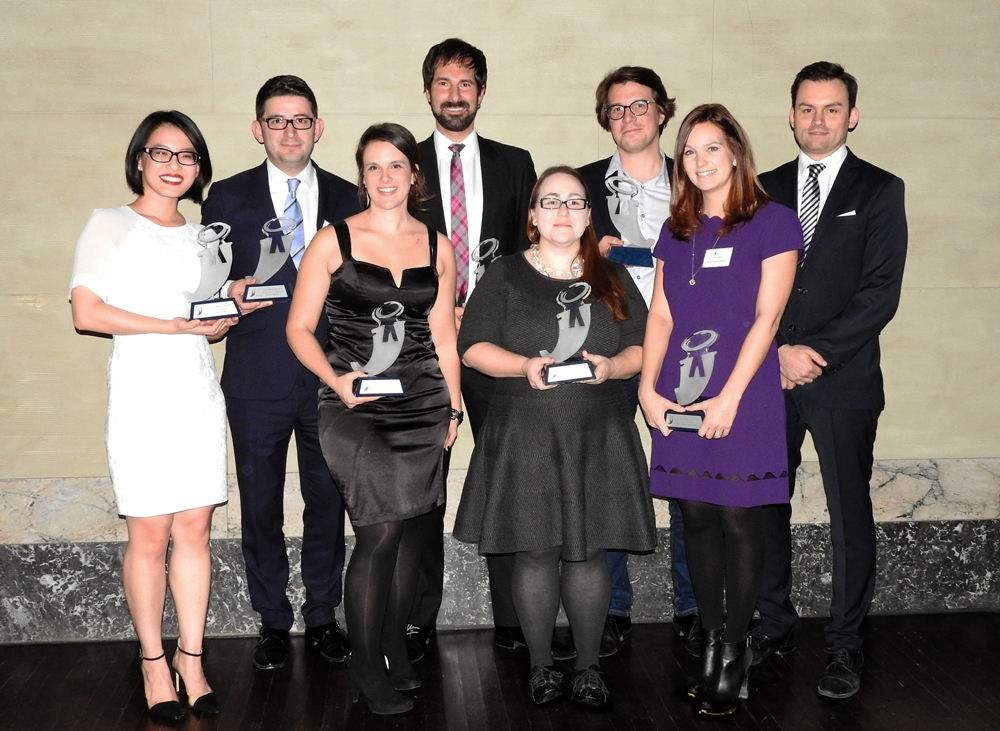 From left to right : Mtres Ziyi Shi, Silviu Bursanescu, Mylène Brown, Andrei Pascu, Marie-Hélène Beaudoin,
Alexandre Désy, Marie-Laurence Brunet, Paul St-Pierre Plamondon (Master of Ceremony & 2010 Winner)
The YBM wishes to extend heartfelt congratulations to all "JBM de l'année 2016" winners in their respective categories. 
Corporate Law
Mtre. Ziyi Shi, Osler, Hoskin & Harcourt /LLP
Ziyi has her practice in the fields of company law, mergers and acquisitions, insolvency, and corporate restructuring. She has worked on the implementation of the Programme des gestionnaires en émergences du Québec, the Chinese partnership for cavalia Inc., and the Mexx Canada Letter of Intent, among other projets. she also spent four months on external secondment with the National Bank of Canada, in the transactions and structured products department.
Litigation/State Lawyer
Mtre. Silviu Bursanescu, Québécor Media Inc., Legal Affairs division
Holding a Master of Laws degree from McGill University, Silviu Bursanescu has been a member of the Barreau du Québec since 2008. He began his career in intellectual property at Fasken Martineau, before pursuing his passion for media and litigation in Québecor's legal department. He works with investigative journalists and in news rooms, and also sits on two Barreau du Québec committees as well as on the board of directors for two cultural organizations.
Family Law
Mtre. Marie-Laurence Brunet, Brunet & Associés, Avocats Inc.
Enthusiastic about family law. Marie-Laurence Brunet completed her bachelor's degree in Law in 2011, her training at the Barreau in 2012, and her Master's degree in Common Law in 2014. She is also involved with Centre jeunesse de Montréal services, where she has been volunteering her time for over three years. She started Brunet & Associés in 2014 with a vision to make the practice of law more accessible. Since that time, she has worked almost exclusively in the field of Family Law, has written several articles, and given more than 15 conferences a year for the general public.
Alternative Career
Mtre. Alexandre Désy, Entrepreneur of Law and Philanthropy
Mtre. Désy distinguishes himself by his atypical practice. As a lecturer and an author, he publishes works on the economic effectiveness of law and the futur of the profession. In the past two years, he has been the lead author of several reports published by the Barreau du Québec. As a social entrepreneur, he is founder and manager of Testicular Cancer Canada. More recently, in 2015, he founded bidsettle.com, an innovative entreprise offering online conflict settlements. He has also been involved with many advisory committees of the Barreau du Québec, as well as on the Boards pf Directors for community organizations.
Pro bono / Involvement in the Community
Mtre. Andrei Pascu, McMillan LLP
Andrei is a litigator with the firm McMillan. He also masters alternative conflict resolution as a means to efficiently settle disputes. Through his involvement with GRIS-Montréal, he is working to demystify homosexuality and bisexuality in schools. Furthermore, as co-president of artScène Montréal, his seeks to create an environment that fosters bilateral and egalitarian dialogue between the business and arts communities. Lastly, Andrei is proud of his ongoing work with Pro Bono Québec.
Civil and Commercial Litigation
Mtre. Marie-Hélène Beaudoin, Marie-Hélène Beaudoin LL.B., LL.M.
Having been trained at reputable medium and large law firms, this small height lawyer now has her own civil and commercial litigation practice, and works as a trainer, mediator, and arbitrator. She is devoted to legal literacy, and has written various publications (this biography is well below the mark). She was the proud recipients of the YBM's Bourse de démarrage de cabinet in 2016, and is pleased to be among gala finalists for the second time running.
Criminal and Penal Law
Mtre. Mylène Brown, Montréal Municipal Court
Montréal Municipal Court Prosecutor, Mtre. Brown has achieved distinction in conjugal violence and criminal file appeal cases. She involved in the Projet Point Final Program for drunk driving repeat offenders and in the addiction support program. She is the Conciliation Program coordinator. She is a member of the board of directors of the Option organization, and vice-president of the Association des Procureurs de cours municipales du Québec.
The Diligent Work of the Pre-Selection Committee
The YBM wishes to thamk the 14 mambers of the 2016 Pre-Selection Committee who given the difficult task of choosing three finalists per category among hundreds of applications.
The Hounourable André Perreault, Associate Chief Justice, Court of Québec
The Hounourable Sophie Bourque, Quebec Superior Court Judge
Mtre. Lise Tremblay, Executive Director of the Barreau du Québec
Mtre. Doris Larrivée, Executive Director of the Barreau de Montréal
Mtre. Michèle Moreau, Executive Director, Canadian Institute for the Administration of Justice
Mtre. Nancy Leggett-Bachand, Executive Director, Pro Bono Québec
Mtre. Nathalie Roy, Executive Director, Éducaloi
Mtre. Nicholas Cerminaro, Bombardier
Mtre. Marc Charbonneau, CAIJ Administrator  / Lazarus Charbonneau
Mtre. Frederick William Headon, Air Canada
Mtre. Paul Martel, Blakes, Cassels & Graydon S.E.N.C.R.L./s.r.l.
Mtre. Pascale Nolin, Robinson Sheppard Shapiro s.e.n.c.r.l.
Bâtonnier Gilles Ouimet, Bélanger Longtin s.e.n.c.r.l.
Mtre. Alain Roy, Université de Montréal – Law Faculty
The Selection Process for Award Winners
The final winners were chosen by the YBM's governing council, which included the following esteemed legal personalities. The above council was given the responsibility of electing a winner from each category.
The Gala – A tradition of Excellence !
The aim of the gala evening is to celebrate excellence and leadership of YBM members, and to reward the next generation of legal minds. Members are encouraged to surpass professional and personal accomplishments, and increase social involvement. Many key players from the legal community were on hand for this important event, a tradition the YBM is proud to continue.
The 10th Anniversary Gala du JBM "Les leaders de demain" was sold out. The YBM would like to thank all participants for their attendance.
It goes without saying that this evening would not have been possible had it not been for the generous contributions of our YBM partners and event sponsors. Accoirdingly, the YBM wishes to thank the following partners :
CAIJ – le Centre d'accès à l'information juridique ;
ZSA – Legal Recruitment ;
Desjardins ; et
AABC – L'Association d'assurances du Barreau canadien.
The YBM also wishes to thank event sponsors :
Clyde & Co;
G2 Légal;
Québécor Média Inc.;
Téo Taxi;
BLG;
Woods;
Gowling WLG; et
BadMonkey Popcorn.
Thanks to all for encouraging the next generation of legal minds!