24 November 2017
11th anniversary of the Gala JBM « Les leaders de demain »
It is with pride that the Young Bar of Montréal (YBM) announces its 7 winners for the title of "Les leaders de demain" on the occasion of the 10th anniversary of the Gala du JBM "Les leaders de demain", which was held on november 23. Hosted with humor and elegance by Mtre Joey Hanna. The evening's festivities took place the theme "bubble & Pearl" décor at the majestic St-James Theatre, with more than 300 guests in attendance.
Congratulations to the Winners!
The following 7 young Montréal lawyers have distinguished themselves in their respective fields of law pertainning to the excellence of their casses, their social involvement, their personal and professional achievements, as well as their vision and insight. For the second consecutive year, winners were awarded the Distinctio  Trophy.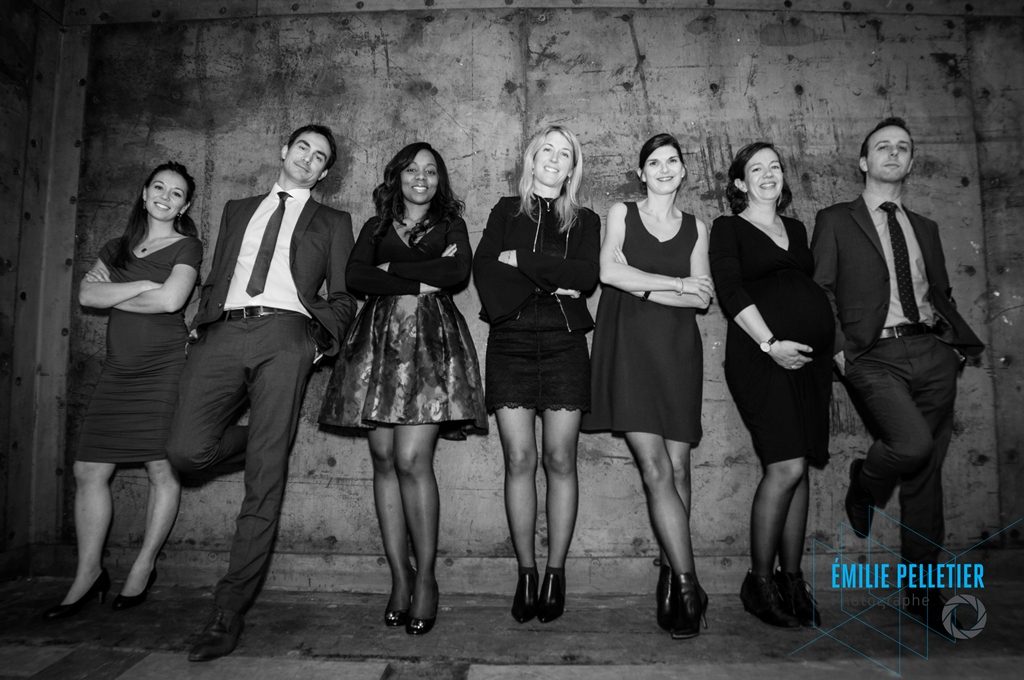 From left to right : Mtres Leslie Ning, Jean-Michel Boudreau, Kadiatou Sow, Isabelle Duval, Sonia Labranche, Sara Gauthier & Nicholas St-Jacques.
The YBM wishes to extend heartfelt congratulations to all "JBM de l'année 2017" winners in their respective categories : 

Corporate Law
Me Kadiatou Sow, Fasken Martineau DuMoulin
Kadiatou practices business law at Fasken Martineau, mainly in mergers and acquisitions and private financing. She acts in the context of local and international transactions and contributes regularly to publications and conferences in corporate and commercial law. Growing up in Guinea, she has a good knowledge of the African market and maintains an extensive network of international business. She was named by decree in 2016 to the Board of BAnQ.

Litigation/State Lawyer
Me Sara Gauthier, Ministère de la Justice du Canada
Mtre Gauthier is a defense lawyer for the Attorney General of Canada in the areas of administrative law, constitutional law, national security and civil litigation. She began her career as a legal assistant for the Honorable E. Blanchard of the Federal Court. She is co-author of the chapter «Contrôle judiciaire du pouvoir discrétionnaire» of the publication Administrative Law, JurisClasseur Quebec, and sits on the board of the Legal Clinic Mile End since 2012

Family Law
Me Isabelle Duval, Lavery, De Billy S.E.N.C.R.L., L.L.P.  
Holds a Juris Doctor in Common Law and a Master's degree in Business Law (LL.M). From 2008 to 2017, she works in the law firm Gayrard Avocats. She is now pursuing her career in family law at Lavery. She pleads with the success of many large files, to include long-term records, the Superior Court and the Quebec Court of Appeal. She has developed expertise in the area of divorce involving significant financial issues, parental alienation and litigation.

Alternative Career
Me Leslie Ning, Clinique juridique du Mile End
Graduated from the Faculty of Law of McGill University (BCL / LL.B.), Leslie Ning is Executive Director of the Legal Clinic of Mile-End, an organization whose mission is to promote access to justice by providing legal assistance free of charge to those in need, while engaging the legal community for this purpose. She is also involved with the National Pro Bono Student Network and sits as a member of the National Board of Directors.

Pro bono / Involvement in the Community
Me Sonia Labranche, DANNET J.-ROBERT, Avocats S.E.N.C.R.L.
Sonia Labranche is a member of the Quebec Bar since 2008 and practice with the firm DANNET J-ROBERT, Avocats. She holds a Master's degree in international public law dealing with climate change in Bangladesh. She previously worked in an NGO based in Hong Kong fighting against human trafficking in Southeast Asia. For the past three years, she is president of the Association Lawyers Outside Quebec and is actively involved with various organizations.

Civil and Commercial Litigation
Me Jean-Michel Boudreau, IMK s.e.n.c.r.l./LLP
Mtre Jean-Michel Boudreau holds a Bachelor's degree in Civil Law and Common Law from McGill University. Before starting his career in private practice at Sullivan & Cromwell in New York, Mtre Boudreau served as a legal assistant for the Honorable Ian Binnie of the Supreme Court of Canada. He joined IMK in 2011 where he developed a diversified practice in civil and commercial litigation, with a particular focus on collective actions. He has co-authored several book chapters on various privileges and collective actions.

Criminal and Penal Law
Me Nicholas St-Jacques, Desrosiers Joncas Nouraie Massicotte
Mtre St-Jacques has acted on the Supreme Court of Canada seven times, including four times as senior lawyer. He has been involved in a myriad of major economic crime cases. He is involved in university teaching, is Vice-President of the Innocence Québec Project and a member of the Board of Directors of the Elizabeth Fry Society of Quebec. The Association of Defense Counsel of Montreal awarded him the Robert Sacchitelle prices in 2013 and Gabriel Lapointe in 2015
The Diligent Work of the Pre-Selection Committee
The YBM wishes to thamk the 11 members of the Pre-Selection Committee 2017 who were given the difficult task of choosing three finalists per category out of hundreds of applicants.
The Hounourable André Perreault, Associate Chief Justice, Court of Québec
The Hounourable Sophie Bourque, Quebec Superior Court Judge
The Hounourable Martine L. Tremblay, Associate coordonnator Justice, Court of Québec
The Hounourable François Rolland, Administrator Office of voluntary reimbursement program
Mtre. Lise Tremblay, Executive Director of the Barreau du Québec
Mtre. Linda Goupil, Ad.E., President CAIJ
Mtre. Nancy Leggett-Bachand, Executive Director, Pro Bono Québec
Mtre. Ariane Charbonneau, Executive Director, Éducaloi
Mtre. Nicholas Cerminaro, Bombardier
Mtre. Richard W. Pound, C.C, Q.Q., c.r., F.C.A., Ad.E., Stikeman Elliot s.e.n.c.r.l.
Bâtonnier Gilles Ouimet, Ad.E.
Mtre. Martine Turcotte, Ad.E., Bell Canada
The Selection Process for Award Winners
The final winners were chosen by the YBM's Governors Council, which included the following esteemed legal personalities:
The Hounourable Nicole Duval Hesler, Chief Justice of Québec (Court of Appeal)
The Hounourable Lucie Rondeau, Chief Justice, Court of Québec
The Hounourable Ann-Marie Jones, President, Tribunal des droits de la personne
The Hounourable Bernard Mandeville, Juge-président, Municipal Court of the City of Montreal
Bâtonnier Brian R. Mitchell, Bar of Montréal
Mtre Hugo Cyr, Dean, UQAM Faculty of Law
Mtre Jean-François Gaudreault-DesBiens, Ad. E., Dean, UdeM Faculty of Law
Mtre Robert Leckey, Dean, McGill Faculty of Law
Mtre Marie-Christine Hivon, President, Canadian Bar Association, Quebec Division
Mtre David Ettedgui, President, Association of Law Lord Reading
Mtre François Ramsay, Yellow Pages Group
Mtre Yves St-Arnaud, Bombardier Produits Récréatifs inc. 
The above council was given the responsibility of electing a winner from each category.
The Gala – A tradition of Excellence !
The aim of the gala evening is to celebrate excellence and leadership of YBM members, and to reward the next generation of legal minds. Members are encouraged to surpass professional and personal accomplishments, and increase social involvement. Many key players from the legal community were on hand for this important event, a tradition the YBM is proud to continue.
The 11th Anniversary Gala du JBM "Les leaders de demain" was sold out. The YBM would like to thank all participants for their attendance.
It goes without saying that this evening would not have been possible had it not been for the generous contributions of our YBM partners and event sponsors. Accoirdingly, the YBM wishes to thank the following partners :
CAIJ – le Centre d'accès à l'information juridique;
Desjardins;
ZSA; et
la Financière des avocats.
The YBM also wishes to thank event sponsors :
Langlois Avocats;
Décléor Paris;
Borden Ladner Gervais;
McCarthy Tétrault;
Clientis;
Stikeman Elliott;
Norton Rose Fulbright;
Gowling WLG;
Jardins Nelson; et
Groupe Germain Hôtels.
Thanks to all for encouraging the next generation of legal minds!