News

17th JBM "Leaders of Tomorrow" Gala 125th Anniversary Special: Finalists announced!
Des bénévoles plus mobilisés que jamais et près de 1 000 citoyen.ne.s servis !
The JBM would like to congratulate the finalists of its annual "Leaders of Tomorrow" Gala.
The event aims to highlight the excellence of JBM members within the legal profession, on the one hand, and to celebrate Montreal's up-and-coming legal talent on the other, in a grandiose event!
"It is with great pride and enthusiasm that we announce today the finalists for the prestigious JBM Lawyer of the Year awards. Their exceptional careers and dedication to excellence are a perfect illustration of the richness of our Montreal legal community. It gives me great pleasure to invite you to join us on November 30, on the occasion of the JBM's 125th anniversary, to learn more about the winners in each category. Don 't miss this unique opportunity to celebrate their success and to contribute to the greatness of our legal profession," says JBM President Joey Suri.
Throughout the selection process, the following criteria were evaluated to determine the finalists and ultimate winners: excellence of record, professional achievements, personal achievements, vision and outlook, and social commitment. For the first time this year, lawyers specializing in technology and intellectual property will also have the opportunity to have a separate category.
Congratulations to all the finalists
Pro bono / Social involvement
Me Daphné K. Rosalbert, Laurentian Bank of Canada
Me David Searle, Centre de justice de proximité Grand Montréal
Me Juliette Jan, Montreal Legal Aid
Family law
Me Jessy Villalta, Choquette Villalta
Me Maxime A. Pouliot, Maxime A. Pouliot | Lawyer and mediator
Me Roxane Charpentier, Avocats Juripop
Litigation practice / Government lawyer
Me Francis Legault-Mayrand, Ministry of Justice
Me François Lavigne-Massicotte, Autorité des marchés financiers
Me Sandra Joseph, Centre de services scolaires de Montréal
Civil and commercial litigation
Alexandra Hébert, Borden Ladner Gervais
Me Anne-Julie Asselin, Trudel Johnston & Lespérance
Me Nathalie Boulanger, Langlois avocats
Corporate law
Caroline Stephens, Osler, Hoskin & Harcourt
Me France Camille De Mers, Lavery, De Billy
Me Shereen Cook, Dentons Canada
Criminal and penal law
Me Amanda Santache, Director of Criminal and Penal Prosecutions
Me Laurence Juillet St-Jean, Battista Turcot Israel
Alternative careers
Me Angélique Adam, Phoenix-GMI
Me Étienne Chénier-Laflèche, Convention against Torture Initiative
Katarina Daniels, Davies Ward Phillips & Vineberg
Labor and administrative law
LéoParent-Sirois, Murdoch Rodrigue Archambault Avocats
Me Mathilde Baril-Jannard, LLM Thesis Candidate - McGill University
Me Sandrine Mainville, Borden Ladner Gervais
Technology law and intellectual property
Me Eliane Ellbogen, Fasken Martineau DuMoulin
Me Toufic Adlouni, Renno & Cie
Vanessa Henri, Henri & Wolf
The JBM would like to thank the 17 members of the 2023 Preselection Committee who had the difficult task of choosing the finalists in each category from among the many applications received:
The Honourable Sophie Bourque, Québec Superior Court Judge
The Honourable Sylvain Lussier, Justice of the Superior Court of Quebec
The Honourable Bernard Synnott, Justice of the Superior Court of Quebec
The Honourable Mélanie Jacques, Judge of the Court of Québec
The Honourable Élizabeth Corte, Lawyer and Chief Justice of the Court of Québec 2009-2016
Me Philippe-André Tessier, President of the Commission des droits de la personne et des droits de la jeunesse
Me Tamara Davis, Executive Director of the Bar of Montreal
Ariane Charbonneau, Executive Director, Éducaloi
Me Anne-Marie Santorineos, Executive Director, Justice Pro Bono
Me Caroline Blache, President of CAIJ
Me Frederick W. Headon, Lawyer, Air Canada
Mylène Lemieux, Legal Counsel, Cisco and former President of JBM
Me Caroline Larouche, Lawyer, Director of Criminal and Penal Prosecutions and former President of the JBM
Me Robert Dorion, Partner, Gowling WLG
Me Luc Deshaies, Partner Gowling WLG
Me Amir Kashdaran, Lawyer Delegatus
Me Jocelyn Auger, Partner Fasken Martineau DuMoulin
For the ultimate selection of the winners, the JBM called upon its Board of Governors, made up of such impressive legal personalities as :
The Honourable Manon Savard, Chief Justice of Quebec
The Honourable Lucie Rondeau, Chief Justice of the Court of Québec
The Honourable Gianni Cuffaro, President of the Municipal Court of Montreal
Catherine Claveau, Bâtonnière du Québec
Me David Ettedgui, Bâtonnier de Montréal
Me Sylvain Bourassa, President of the Tribunal administratif du Québec
Me Robert Steinman, President of the Lord Reading Law Association;
Me François D. Ramsay, General Counsel - Legal Affairs - Hydro-Québec and former President of JBM
Me Antoine Aylwin, Partner Fasken Martineau DuMoulin and former President of the JBM
The winners will be announced at the JBM "Leaders of Tomorrow" Gala on November 30 at the Marriott Château Champlain. Join us to celebrate and cheer on the finalists by registering here.
Thank you to our Gold Sponsor!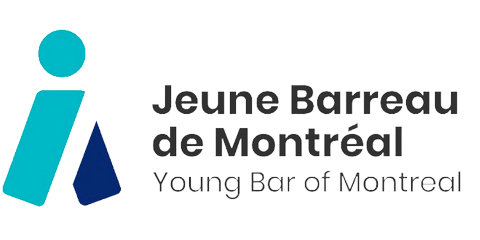 ---